Building our Temporary Barn
We decided, arguably too late, that the tiny old barn that came with this property was just way too small to accommodate all of the equipment we needed to manage our orchard (tractors, sprayers, mowers, tillers, fruit bins, etc). What to do? How does one erect a large enough building, on a tight budget, in a few short weeks between nursery digging and orchard planting, while the mother of all rainy winters rages on and on?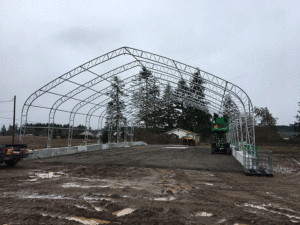 Despite the obstacles, we opted to purchase a large 5000 square foot tension fabric structure and put it up at the new orchard site in February. It was a wet, and sometimes frustrating experience, but we got it done. At least now we can rest assured that, for the next few years while we get the orchard up and running, we'll have a big enough building for our needs. Have a look!